Student Comments
Our Instructors spend 50% of their time training and 50% of their time consulting.

2005 Q1 - Q2 - Q3 - Q4
2006 Q1 - Q2 - Q3 - Q4
2007 Q1 - Q2 - Q3 - Q4
2008 Q1 - Q2 - Q3 - Q4
2009 Q1 - Q2 - Q3 - Q4
2010 Q1 - Q2 - Q3 - Q4
2011 Q1 - Q2 - Q3 - Q4
2012 Q1 - Q2 - Q3 - Q4
2013 Q1 - Q2 - Q3 - Q4
2014 Q1 - Q2 - Q3 - Q4
2015 Q1 - Q2 - Q3 - Q4
2016 Q1 - Q2 - Q3 - Q4
2017 Q1 - Q2 - Q3 - Q4
2018 Q1 - Q2 - Q3 - Q4
2019 Q1 - Q2 - Q3 - Q4
2020 Q1 - Q2 - Q3 - Q4
2021 Q1 - Q2 - Q3 - Q4
2022 Q1 - Q2 - Q3 - Q4
2023 Q1 - Q2 - Q3 - Q4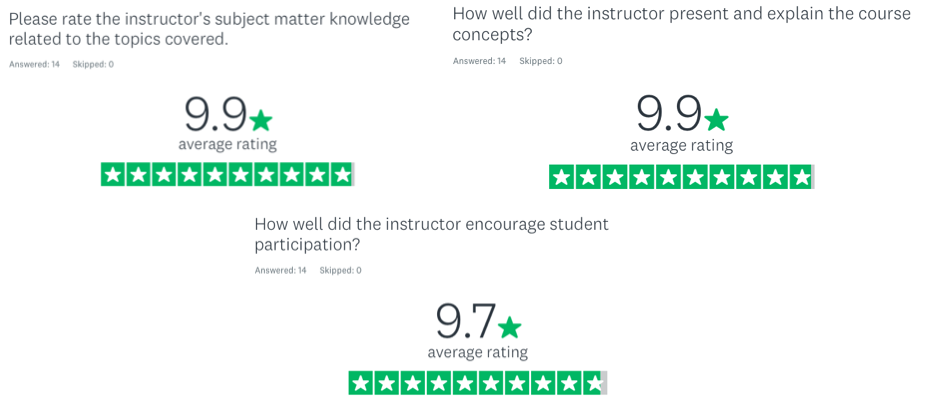 Nutanix: Jim was one of the best instructor I have had the pleasure of dealing with. His insights and enthusiasm were fantastic. Also his reference to WARNING, WARNING! were great and funny.
Nutanix: He provided great hands on knowledge of the course.
Nutanix: Jim knows his stuff, he did a great job explaining concepts and I particularly liked how he explained how he likes to teach with the objective or end goal of having his student be able to TEACH what they learned. This is very important to me and immediately raised my enthusiasm for the course
Nutanix: Jim is very knowledgeable with the subject.
Nutanix: Jim is a great teacher, and encourages questions. He is funny and keeps the class engaged and light, but focused.
Nutanix: Jim is a great instructor. He presented the material in a professional yet entertaining manner; keeping the class engaged while offering ample opportunity for questions and feedback. Highly recommended instructor!
Nutanix: Jim was very clear and easy to understand. He was very friendly and made it very easy to ask questions.
Nutanix: Jim's knowledge and personality made the course enjoyable and fun.
Nutanix: Very well organized.
Nutanix: All the labs and the classes were good. Instructor explained a lot of real world scenarios which gave us a perspective on what to expect.
Nutanix: Great Class, exceptional Teacher, kept students involved in the course. Answered all questions the class had.
Nutanix: Very good instructor, this one is a keeper.