Student Comments
Our Instructors spend 50% of their time training and 50% of their time consulting.

2005 Q1 - Q2 - Q3 - Q4
2006 Q1 - Q2 - Q3 - Q4
2007 Q1 - Q2 - Q3 - Q4
2008 Q1 - Q2 - Q3 - Q4
2009 Q1 - Q2 - Q3 - Q4
2010 Q1 - Q2 - Q3 - Q4
2011 Q1 - Q2 - Q3 - Q4
2012 Q1 - Q2 - Q3 - Q4
2013 Q1 - Q2 - Q3 - Q4
2014 Q1 - Q2 - Q3 - Q4
2015 Q1 - Q2 - Q3 - Q4
2016 Q1 - Q2 - Q3 - Q4
2017 Q1 - Q2 - Q3 - Q4
2018 Q1 - Q2 - Q3 - Q4
2019 Q1 - Q2 - Q3 - Q4
Nutanix-VA: Jim is super knowledgeable. He was able to train in an effective way that enabled understanding even with his vastly in depth knowledge, he could articulate and help you understand the concepts.
Nutanix-VA: instructor was very helpful and knowledgeable
Nutanix-VA: One of the best instructors to date for me and I am a 35+ year employee.
Nutanix-VA: Jim made the class interesting and informative. It was easy to stay engaged as he engaged with the class.
Nutanix-VA: If there were any questions James answered with out hesitation and if he did not know he found out and got back to us.
Nutanix-VA: He was able to keep us engaged. He made class fun.
Nutanix-VA: Instructor was very knowledgeable. If he did not know the answer to a question he would find it.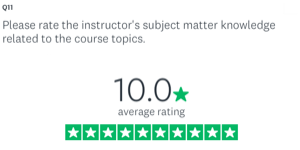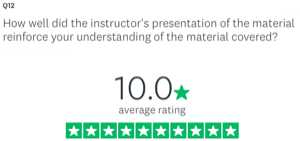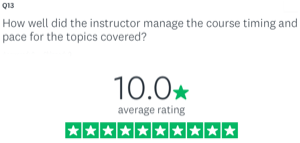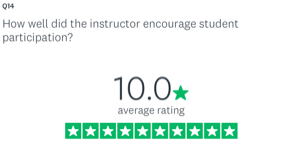 Nutanix-VA: very knowledgeable, and entertaining. I never felt bored or sleepy like I do in other courses.
Nutanix-VA: excellent instructor
Nutanix-VA: Great Instructor
Nutanix-VA: Very satisfied
Nutanix-VA: smooth
Nutanix-VA: James was well spoken
Nutanix-VA: Jim did a great job at presenting the material, including real world scenarios and adding some humor throughout. Our class was made up of both beginner and intermediate students and he was able to present at a level that accommodated both. Nice job Jim!
Nutanix-VA: I wanted to say you did a great job with the class! It was well organized and definitely relevant to help us better manage our Nutanix environment. We had a mix of experience levels there and I believe all benefited from the training.
Nutanix-VA: Great presentation and easy to follow